Great Scott is a well-known celebrity gamer in America. Every day he racks up millions of views by pumping out content. It consumes his life, which doesn't appear to be a problem until one morning his girlfriend tells him that they need to talk. Scott is too busy reading a comment section to hear her at first, and she leaves their apartment before he fully digests those words. Cue a spiral of self-reflection as Scott is faced with needing to learn to appreciate the people who care about him beyond his brand.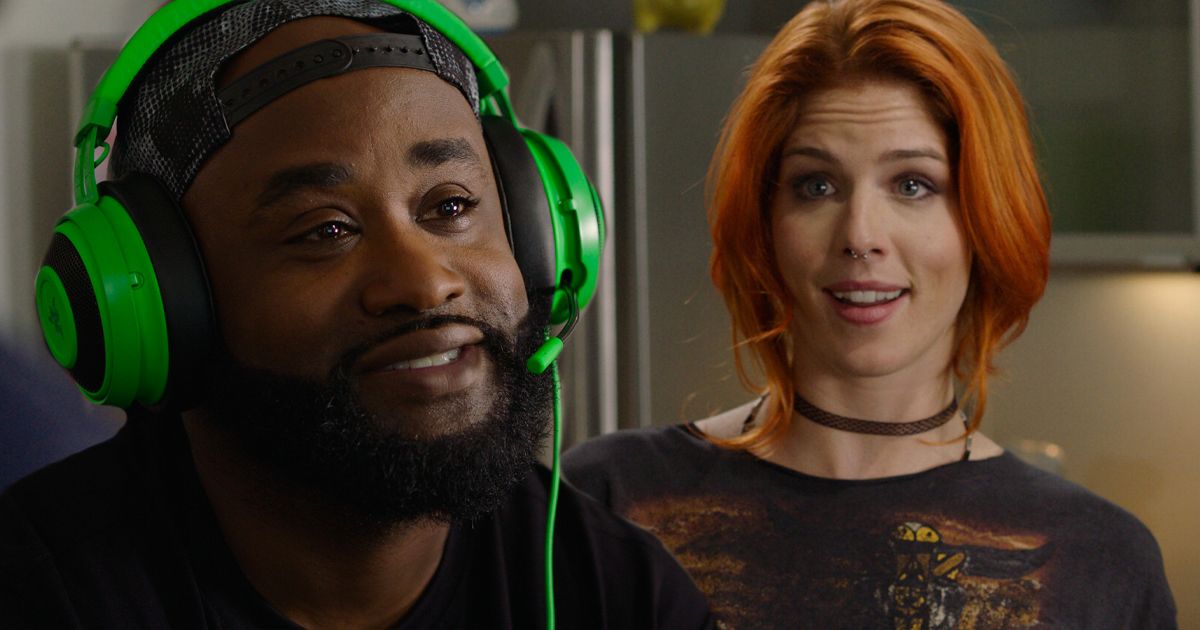 James Maslow plays Great Scott in We Need to Talk, alongside cast members Emily Bett Rickards, Tray Chaney, Christel Khalil, Johnathan Fernandez, Amanda Shhonover, Peter Patrikios, Wesley Holloway, and more. It's written and directed by Todd Wolfe and premieres on digital platforms on May 13 from Global Digital Releasing.
Wolfe stated that, "At its core, We Need to Talk is a romantically infused coming-of-age comedy centering on Great Scott… a pampered man child who has been spoiled by his impulsive social media 'fan' base. In the vein of cult classics like Billy Madison and Tommy Boy, We Need to Talk has an inherent heartbeat that matches pace with its sometimes crude, locker-room-style humor."
Rickards (Arrow, Brooklyn) plays Amber in the movie, Scott's girlfriend's best friend who he seeks information from. Chaney (The Wire, We Own This City) plays Tango_Unchained, one of the fellow gamers in Scott's group. Both joined Movieweb to chat about the comedy and how fun it was to shoot.
Having Fun While Working
"With the table reads, on set, and with us doing interviews together and different things of that nature, with the crew, writer, and director… it was a smooth flow… in between takes we would joke around and laugh and set up for the next scene. From top to bottom, it was just fun. That's the key word, it was fun while working." Reflected Chaney.
Chaney has a long-lasting relationship with Wolfe and considers him to be an exceptional writer and director. "When he approached me with this amazing film, and I got this character, and the lead star is James Maslow… that's what drew me to the project. After reading the script I thought, 'this is going to let people who never played video games inside the world of those who do.'"
Rickards shared a similar sentiment, also noting that James was great to go back and forth with when delivering jokes in the script as well as capturing them in the moment of banter, as her character acts as an antagonist to his. "James' character just wanted answers, and so I feel like from that objective, it's just about hearing what is getting thrown at you and sifting through… James himself, he's easy going and present and was able to take Amber through his character."
Rickards continued, expanding on Amber, "Perhaps the ticket was that she was chaotic and had long chunks of dialogue without much particular grammar, which is always freeing for a character because that means they're flying by the seat of their pants."
Finding the Right Balance
We Need to Talk has plenty of locker-room-styled moments, but it also leaves viewers with a message to take home; appreciate those who truly care for you. Which can be easily forgotten with all the modern distractions at our disposal. "I think it's easy to connect because no matter what age you are, or what decade you were born in, by now you have a screen, a black mirror in front of you… and debatably that is a type of presence but just in a different way, but at least in my opinion, I'm not an AI yet. So, I think that the people around me are the ones that help me feel more like humanity isn't just this one sludge heading towards darkness." Joked Rickards.
"James Maslow's character Scott is famous; he's trying to balance from putting so much time and energy to that. He might neglect his personal life, his family, his friends… It's a warm comedy, but at the same time, there's drama pieces throughout. It really hits the heart, and it hits home." Said Chaney.
We Need to Talk also features various cameos by real gamers and influencers, including Clementinator, DubDotDUBBY, Secret_LeonGids, HipHopGamer, and more.